WILL SEEDORF AND KLUIVERT : the new trainers of the Indomitable lions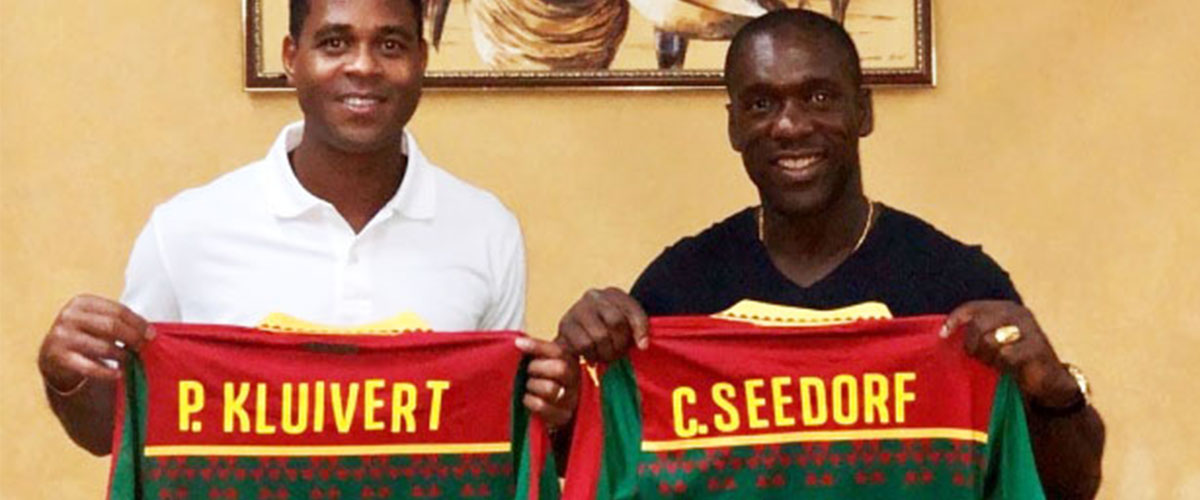 Clarence SEEDORF and Patrick KLUIVERT are the newly appointed head and assistant coaches of the indomitable lions of Cameroon. They have as task, to keep the 2017 AFCON glory trophy and also qualify the lions for the 2022 World Cup in Qatar.
The Dutch men each have a rich professional background not only as a players but also as coach. The task ahead of them is not an easy one. Though their names didn't appear in the "short list" of recruitment. It is certainly their profiles that have played in their favor with the Cameroonian authorities.
SEEDORF is well known for his powerful shots, and has won four champions league with three different clubs. His professional career started at 16 with Ajax Amsterdam, where he left for Samdoria, then Real Madrid, Inter Milan, AC Milan and finally the Brazilian club Botafogo in 2012-2014 where he will finish his football career later. He decides to train as a coach and takes the reins of AC Milan on January 2014; a position which he occupied until 9 June of the same year. He then coach the Shenzhen Football Club, and Deportivo for 6 months; that is the date of the signing of his contract with the Cameroon team.
KLUIVERT also integrated the training center of Ajax Amsterdam. He found glory under the colors of Ajax (1994-1997) but also with FC Barcelona (1998-2004). He was wonderful with them and then from 1992 to 2004. Then he has played for other prestigious clubs such as AC Milan, Newcastle United, PSV and many others till 200. He then started training with the Dutch club AZ Alkmaar to obtain his coaching diploma. He then coach FC Brisbane roar, NEC Nimegue, and the Dutch national team as an assistant...
Although their first match wasn't a real success the indomitable lion's fans still remain optimistic and convinced that they shall bring back the trophy.