Romantic Water-melon fruit basket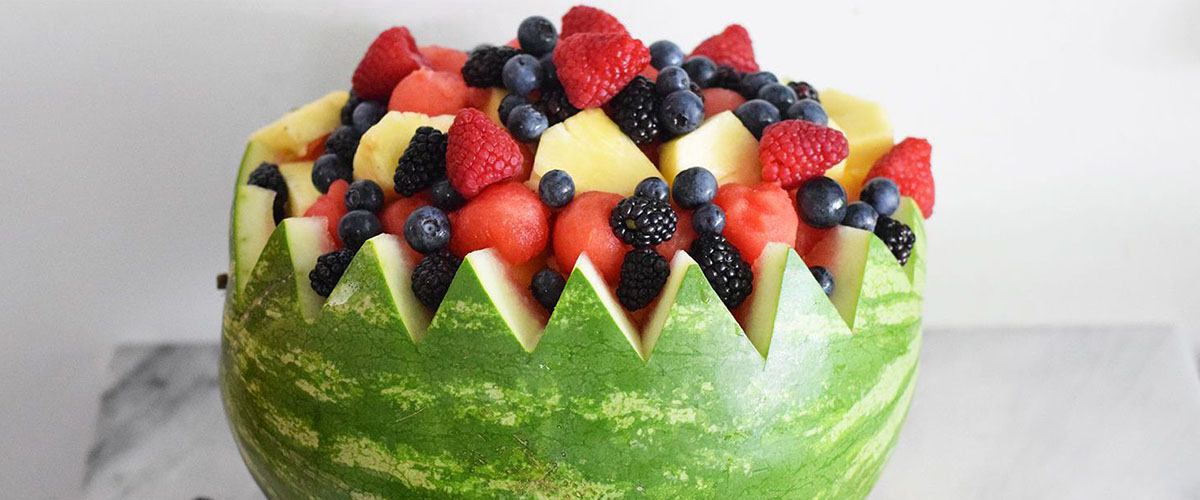 During this period of love, an eye catching romantic watermelon bowl filled with a variety of fruits which is affordable can be done at home within 45 minutes for your love ones.
Ingredients:
Large watermelon about 17 inches long

1 cup green grapes

3 cups cantaloupe balls

¼ cup finely chopped fresh mint leaves

2 tablespoons lemon juice

¼ cup sugar

1 cup fresh strawberries

Additional fresh mint leaves
Preparations:
Using a long

sharp knife cut

a thin

slice from one end

of the watermelon

being careful not to cut

into the flesh of the watermelon

, Stand watermelon on cut end. Using a washable marker, mark

the handle

at top of basket by drawing 2 parallel lines that are 21/2 inches apart, starting at top of watermelon and drawing lines about 6 inches down each side.

Using a sharp knife, cut out a wedge piece of watermelon from each side, leaving the handle intact. Using a large spoon, gently scoop out watermelon flesh, leaving about 4 inches of flesh at bottom of watermelon.

With a small knife or garnishing tool, make 'V' or scallop cuts about 2 inches apart on

the

handle of the watermelon basket.

Cut watermelon into 1-inch chunks or use a melon ball tool to make balls of watermelon. Measure 3 cups of watermelon and place in a large bowl.

Refrigerate remaining watermelon for another use.

Add grapes and cantaloupe

to the watermelon in a bowl

. Gently mix in ¼ cup mint, the lemon juice and sugar. Refrigerate fruit mixture and watermelon basket separately until ready to use. Just before serving, fill the watermelon basket with fruit mixture.

Garnish with strawberries and additional mint leaves.
Enjoy the fruits in the romantic watermelon bowl.
Grapes smoothie that rocks (reglo.org)