Easy made sweetened green, red, yellow pop corn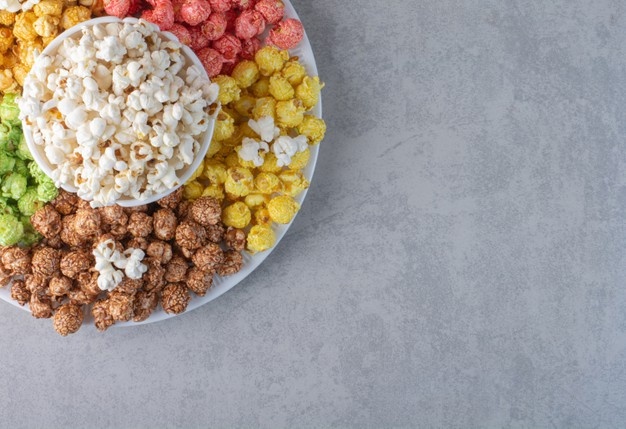 Classic caramel core taste with a twist, this recipe is for you. Its results in fresh tasting, crunchy popcorn with a sweet and salty flavour combo that's always a hit. You can dye it any colour you want using liquid food colouring. Here's what you'll need.
Ingredients for 3 cups of pop corn
- 1 tablespoon butter
-1 tablespoon canola oil
- 1 cup corn syrup
-1 tablespoon salt
-1 teaspoon liquid food colouring (green, red, yellow)
-1 cup of popcorn kernels
Preparation
Melt the butter, oil, syrup, and salt in a large pot. Melt the ingredient together until they're completely combined. Stir occasionally to incorporate the ingredients.

Add the food colouring. Stir in ¼ teaspoon of liquid food colouring (green, red, yellow). If you want the popcorn to have a deeper colour, add more; for a pastel colour, add less. Use a spoon to mix the food colouring in thoroughly.

Pop the popcorn. Pour 1/3 cup of the popcorn kernels into the pot and stir them around so they're coated in the syrup mixture. Put a tight-fitting lid on the pot and turn the heat to medium high. Shake the pot every few moments as the kernels heat up and begin to pop. When the popping begins to slow down, remove the pot from the heat.

Spoon the popcorn onto a baking sheet to cool. You can oil the baking sheet or line it with parchment paper, so the popcorn won't stick. Spread it into a thin, single layer and allow it to cool. Enjoy immediately or store in an airtight container.

You can either mix the coloured popcorn in a large bowl or separate them to see the beauty of the Cameroon flag colours.
Enjoy!
http://reglo.org/posts/fried-rice-camer-style-6807
Written by Che Engochan