They advocate for women and girl's right: 5 leading feminists in Cameroon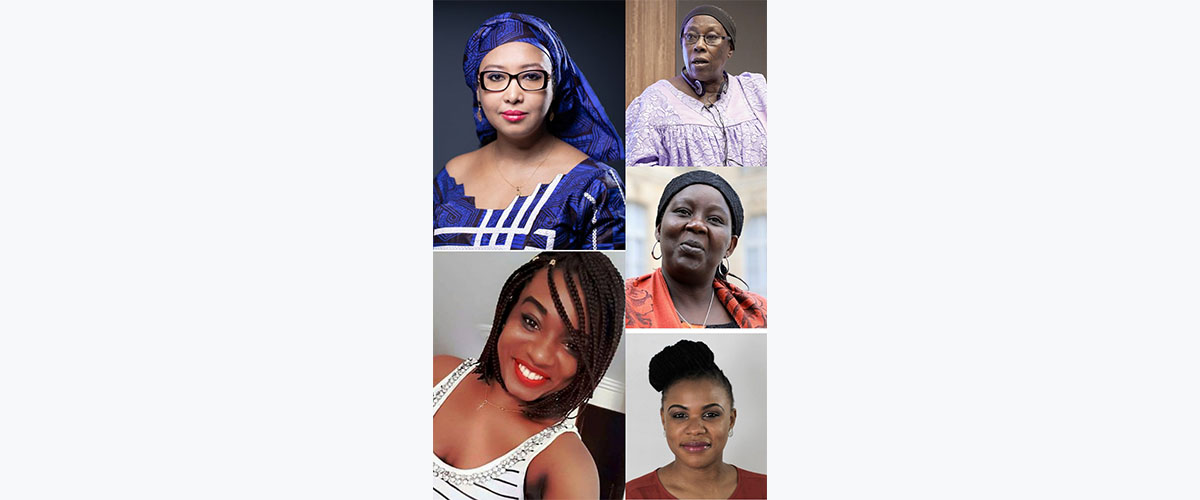 For a decade now feminism has been spreading around the continent, and in Cameroon more voices are raising to fight against any form of gender based violence, and to stand for the rights of girls and women. All over the country actions are being taken by those activists to bring the voices of young girls into the spaces and to awaken conscience. Here are 5 Cameroonian feminists that are struggling to make changes in the country and throughout the world.
Djaili Amadou Amal
She is the new pride of cameroonian literature as she recently won the prestigious french literary award Prix Goncourt des Lycéens for her novel « Les Impatientes ». A novel that explores the issue of early and forced marriage.
Born in Maroua, the 45-years-old author knows the struggles to be a girl in our societies; since she has also been forcibly married at the age of 17. « The Voice of the voiceless » as many refers to her, is using her writing skills to advocate for girls and women's rights in the Sahel region of Cameroon.
To enhance her actions DjailiAmadou Amal founded in 2012 « Femmes du Sahel », a non-profit association that promotes women's rights and girl's education. The writer is also the winner in 2019 of the 1st edition of the Orange Book Prize with her novel « Munyal, les larmes de la patience », which new edition reached the final of the award Prix Goncourt 2020.
AïssaDoumaraNgatansou
Born in 1972, this native of the Far North region of Cameroon has been fighting against child marriage and sexual violence for more than 15 years.
Even though she was forcibly married at the age of 16, AissaDoumara fought to finish her studies before having her 3 children. Her own experience of gender discrimination has propelled her to become an activist for girls and women.
In 1991, with other three women activists she founded ALVF (Association de Luttecontre les Violencesfaites aux Femmes) a non-profit organization which aimed at eliminating all forms of violence affecting girls and women.
She was awarded the first ever Simone Veil Prize in 2019 by the President of French Republic Emmanuel Macron.
Sike Bille
This sociologist has been helping girls and women in their struggle for over 20 years. One of those women she helped is Aissa Damarou with whom she opened the Far North branch of ALVF in 1996.
In 2001, SikeBille founded APAD (Association pour la Promotion de l'Autonomie et des Droits de la jeune fille/femme), a youth-led organization based in Maroua whose membership and leadership consist entirely of survivors of early and forced marriage.
Mallah Enow Tabot
Born in 1989, this young female journalist has been working hard since 2012 to improve the lives of other young Cameroonian girls and women. As a reproductive health activist and founder of the NGO United Vision, she fights against trends and tendencies that relegate girls and women to the background.
She was given a Queen's Young Leaders Award in 2015 by the Queen Elisabeth for her work to improve the lives of young women.
In 2016, she launched « Ndolo 360 », a mobile application that provides judgment-free education, information and services on sexual and reproductive health for teenagers and young people.
Minou Chrys-Tayl
This web activist is at the frontline of every issue raised on the Internet concerning gender-based violence. She can be described as the new generation of African feminism. Victim of domestic violence when she was married, she has since being actively engaged in the fight for women's rights. Journalist and TV host, MinouChrys-Tayl is using social media platforms to lead the voices of young girls and women. She instigates online campaigns like the ≠WeCanDoItChallenge which has become viral all around the world. Later on in 2019 she also launched the « orange pour le monde » and « Dites NON/Disons NON » campaigns to fight against violence towards women