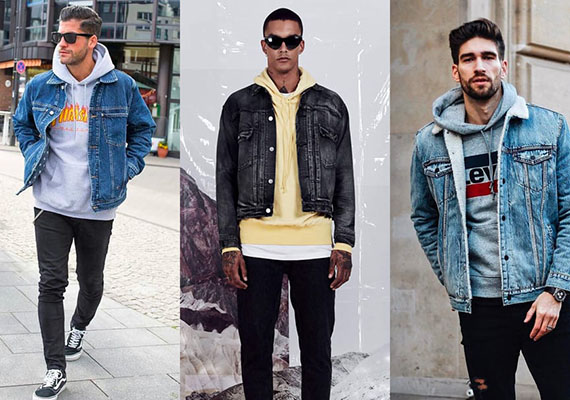 The weather is chilly or maybe you just really love hoodies, so you yearn for variety. Maybe you're a fashion lover but still need to wear a pullover every day. Whatever the reason, here's how to mix up your hoodie-wearing for various occasions.
What is a Hoodie?
A hoodie is a type of sweatshirt, jumper, or jacket that features a hood. The style is typically worn for casual wear or sportswear. Mostly made from cotton, the garments is both comfortable and warm with a fitted waistband and cuffs to trap heat. Additionally, the hood can be used to keep the wearer's head warm during cold weather or protected from the rain.
How to Wear Hoodies
Denim Jacket with Hoodie: To achieve a casual but very cool look, pair a hoodie with a denim jacket. Although you can choose from many types of denim jackets for the outfit, a blue option works extremely well and can suit a range of styles like with a white or grey hooded sweatshirt. Then, finish your outfit with some skinny jeans and sneakers.
Bomber Jacket with Hoodie: To nail the look, select a zip-up hoodie in a classic color, such as grey, black or navy. Then, pair it with your favorite type of bomber, be it nylon, wool or leather-sleeved. To complete your casual urban look, just add some black or dark blue jeans and a pair of stylish sneakers. The result will be a modern inner-city style with subtle athleisure influences.
Leather Jacket with Hoodie: To keep warm and stylish at the same time, layer a hoodie underneath a leather jacket. To keep the look tough and edgy, opt for a black biker jacket and pair it with a black zip-up hoodie. Then, add slim-cut jeans in black for a rocker aesthetic or blue for a more urban feel.
Shearling Jacket with Hoodie: Shearling coats are made from processed lambskin, sheepskin, or pelt. As both the jacket and the hoodie are thick and heavy in appearance, brown leather or denim jacket can make an excellent choice and add some warmth to your outfit. Pair your jacket and hoodie with pants in an opposite texture to further soften the look while adding a complementary vibe.