Cameroonian musician artists stand for peace in Cameroon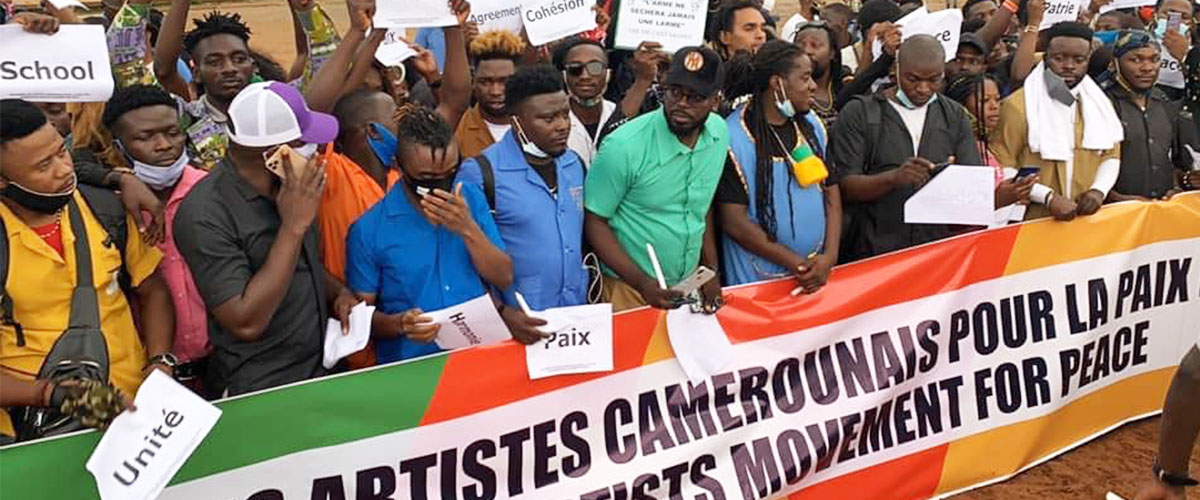 For a month now, urban music artists in Cameroon have come together as one man to say NO to the killings and the war that has been going on in the South West and North West regions of the country.
This came up following the massacre of students in the Mother Francisca primary school in Kumba (South West region). Brought together under the Cameroon Artist's Movement for Peace (MAC) initiated by the rapper Xzafrane, they are raising their voices to fight against what is now referred to as the #AnglophoneCrisis.
The first step of their movement was the huge meeting held on the 1st of November at the esplanade of the Yaounde Bilingual High School Essos. All dressed in school uniforms, those artists have shown their engagement and their determination for a return of peace in those regions. Artists present at this peaceful and public demonstration: Locko, Lady Ponce, Moustik Le Karismatik, Tenor, Ulrich Takam, Lydol, Ko-C, Kola Sucre, Cysoul, Sandrine Nnanga and many others.
Led by Maahlox, Xzafrane and Dynastie le Tigre, the "Cameroon Artist Movement for Peace" is going to take on the months ahead, various actions in line of their commitment. As Maahlox has said on his official Facebook page, the activity held on the 1st of November is the first phase of an extensive national campaign launched by MAC. And we remember that earlier in October, Salatiel had already held a meeting with some of the artists living in Douala to talk on the same issue.
Even if for some people those artists are just following the trend in Nigeria as we have seen recently Nigerian artists like DAVIDO, WIZKID, FLAVOR just to name a few, standing against police brutality in their country. We hope that this is just a beginning and that in the future ahead, artists in other disciplines of art will take similar actions or any other, cause like the saying states: "Better late than never".