Fowl-Plucking: Menial Jobs That Feeds Families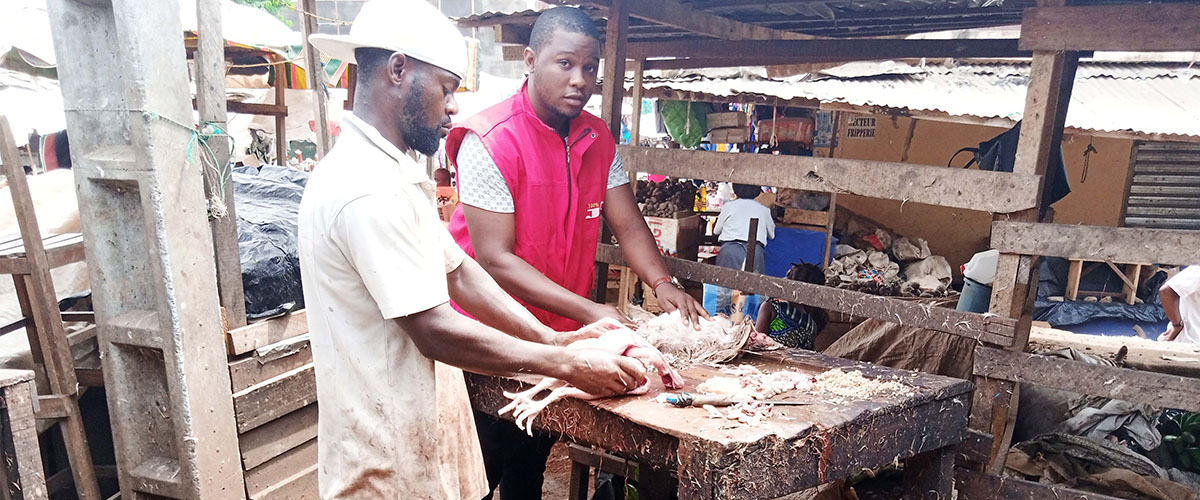 Assorted food and drinks, that crunchy and crispy fried chicken, topped with chili like paprika or hot sauce to end that spicy taste, Yum Yum! But have you ever thought of the chicken pluckers in the market who made it possible for you to have that on your plate? Maybe, maybe-not. 100% jeune during this festive period, seeks to dig deep into the functioning of fowl-plucking, an overlooked, yet profitable sector of activity.
Ding dong ding dong, hear the Christmas bells ringing, a period which is mostly characterized by plenty. It's Saturday like any other at the Acacia Main market in Yaoundé. Located about 50 meters from the south entrance to the market, you find the sections for sales and plucking of fowls. Young men have organized themselves; their job is to pluck fowls, according to the order of their clients. This is usually done at a particular fee, determined by the nature of the work to be carried out.
The Insights of Acacia market
Directly behind the main site where chicken is sold, we meet Elvis and Abdel. Arguably the most famous in the trade at the Acacia market, they consider the activity a full-time profession. Abdel on his part abandoned his former job at the bakery for fowl-plucking. The two friends told 100% jeune that theyare capable ofmaking up to 15,000FCFA when the business is at its peak, and between 5,000 and 10,000 FCFA when the demand for their services is low. All the same, the profits enable them to fend for themselves as well as look after their families. Curiously, stringent rules govern this little-known profession: zero arrogance towards client, client protection and satisfaction. Each plucker is required to pay the sum of 1000FCFA per day to the caretaker of this site.
They work hand in gloves with the chicken vendors, as they help them propose prospectivecustomers.Quite often, it is possible to pay your plucking fees through these vendors or as acustomer of the week, you are entitled to a bonus, most often, you can get your fowl plucked for free.
The situation is very different from what is obtains from another plucking points located some 20 meters away from the first. Here, there is little or no control, no dues and no rules. Both menand women can be found plying the trade here. This is the case with Charlotte, one of the very few women among the multitude of boys plucking fowls at the Acacia market. To her, "woman too di chop". "They no make the work only for man pikin them, as long as ei di give money, na for all man" she told 100% jeune.
Brenda's Perception
The customers have a lot to say concerning the modus operandi of fowl-pluckers. Brenda, says she solicits the services of chicken pluckers every Saturday. She appreciates their job, and wishes they were honest.
"When dealing with these boys, one has to be vigilant as it means nothing to them to change your chicken. You end up going home with what you didn't pay for," she said, adding "manyat times they steal important parts of the chicken like the gizzard and the liver, obliging one to be careful when working with them."
Notwithstanding, these groups of youths who have chosen to devote their energy to generating income for themselves through the 'Reglo' are very optimistic. According to Aveiro Djes, "temps que ça Nourrit ma famille et je soigne ma mère, CA VA!